Suffering From Sciatica Pain? We Can Help You Today!
Same Day Sciatica Treatment In Lindsay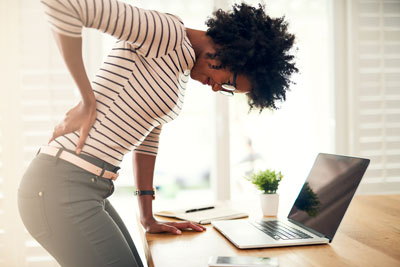 We understand how uncomfortable it is to experience sciatic pain that radiates into the buttocks and down the back of your leg to the toes. It usually comes from pinched nerves in the lower lumbar spine or Piriformis Syndrome. Other common causes of this painful condition include disc herniation or degenerated discs.
If neglected, the nerve irritation extends down one or both legs along the sciatic nerves. The pain appears in the leg, but the culprit is often the lower back!
At SpineWerX, we understand how discouraging it can be to complete even the simplest of daily tasks with sciatic nerve pain and we are here to alleviate your sciatica.
Dr. Crouch has been helping people with sciatica pain since 1978 and he can help you too. You don't have to live in pain!
We can see you today!

Natural Sciatic Nerve Pain Relief
Lindsay Chiropractor Dr. Phillip Croutch has helped many patients suffering from sciatica regain their active lives. All-natural chiropractic care addresses the root cause of your sciatic nerve pain, getting you out of pain and keeping you there.
You don't have to live another day with sciatic nerve pain – We can help!

Book Your Appointment Online

I was very happy with the prompt attention I received and with the warm and friendly reception from start to finish.

I have to say my first experience was a welcoming and caring one. All of my questions were answered and I felt like they truly understood my situation and could help me. I would definitely recommend Spinewerx! 

Since being under regular chiropractic care I have noticed increased mobility and improved sleep, and I am able to walk better with much less pain.

The doctor is excellent and very easy to understand and the staff is really pleasant to talk with and helpful.

Everyone was very helpful and friendly.

My first appointment was very informative and thorough. It was much more that expected with a very unexpected awesome price tag.

As a proponent of chiropractic care I encourage and recommend people to try it. They  will be surprised by how easy it is, the results they will feel and how much better they will function on a daily basis.

You have a very professional office and friendly staff. Looking forward to getting better with you.

Very impressive clinic and I'm looking forward to my treatment plan.

Great staff, very friendly and helpful. Entire process explained thoroughly. Walking into the place felt like I had known them all for years. Great experience.

My overall experience was wonderful. Dr. Croutch and all of his staff are very professional and very friendly. I have no doubt I will get the help I need with the continuing care I will be receiving by Dr. Crouch and his crew.

Looking forward to moving forward with treatment.

Very professional and thorough process.

Great first visit. Happy to meet everyone excellent service and atmosphere.

You Don't Have To Live In Pain
Call Us Today! (705) 324-8211

Gentle Sciatica Chiropractor In Lindsay