Chiropractic Care Lindsay
Pain Relief and Improved Function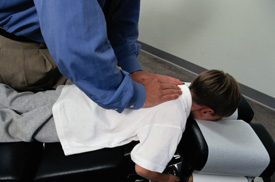 If you have been searching for a natural, noninvasive method of relieving pain and discomfort, we encourage you to consider chiropractic care. The goal of chiropractic care is to restore normal position and function to the spinal bones so that the tissue, nerve, joint and muscles that are connected around it can heal properly. By improving nerve function through chiropractic adjustments, you can feel fantastic.
Our Approach to Care
At SpineWerX, we partner with patients to identify their primary problem that needs to be addressed. If your goal is achieve pain or symptom relief, we will improve your nervous system function in that area of injury as soon as we can. Then we will help you achieve whatever health goals you have. If wellness is your goal we can provide nutrition and exercise counseling. We are passionate about helping patients in a variety of safe, natural and effective ways.
A Toolbox of Techniques and Services
Because no two patients are precisely alike, we offer a variety of techniques and services to help each person achieve the best results. Our offerings include:
Is an Adjustment Uncomfortable?
Chiropractic care is not uncomfortable in most cases. Rest assured that we proceed very carefully when we begin. You will always be informed of what we are doing in advance, and no care will be given until we have your permission. If you have arthritis, a degenerative disc or another condition that requires a gentle approach, we can vary our care with an appropriate therapy that is both effective and comfortable.
Discover how great you can feel with chiropractic care. Contact us today to book an appointment.
---
Chiropractic Care | Lindsay, ON Chiropractor | (705) 324-8211