Orthotics Foot Support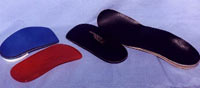 Are you experiencing foot, ankle or knee pain that may be related to falling arches? Have you been told that custom made arch supports may relieve some of the pain? These custom devices are called "Orthotic" devices. Chiropractors often have to deal with foot and ankle problems in order to help relieve lower back, hip, and leg pain. We have been fitting patients for custom orthotic devices for many years, and would be glad to answer any questions about their suitability for your problems. Common problems orthotics are recommended to help are heel spurs, plantar fasciitis, tendonitis, ankle pain, and shin splints.
Orthotics are custom fitted to each foot to assure proper corrections. We deal with many different orthotic labs, so it is easy to find any variation of material and style that is suitable.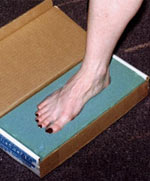 The Process
The prescription cast for the orthotics can be produced in two different ways. Using a method that has been a standard for many years, the feet are cast in the neutral biomechanical position in compressible foam, which retains the exact shape of the foot, right down to the creases in the heel.
This is combined with a gait examination to understand the corrections required to build the orthotics.
We can also use a computer scan of the feet to get additional information. This is then used to show you the problem, as well as provide additional data for the orthotics.
These are then sent to the manufacturer who produces them to our exact specifications. The manufacturer creates a computer-generated model from the data, and custom shapes the orthotics to give perfect control. Many additional pads or wedges can be added to make it completely unique product just for your comfort. For an idea of the orthotic variety, quality, and also custom shoes that are available, check out the following links to three of the labs we use the most.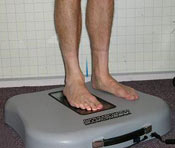 To understand what an orthotic corrects, please click here.
To enhance your chiropractic care, we offer this service to our patients at a significantly lower cost than other centres that deal primarily in orthotics. This is despite the fact that we use the identical product to many other specialty clinics. We are also a registered provider of orthotics with Green Shield, and most other extended health plans cover some or all of the cost for custom orthotics at our clinic.
Contact us to find out more about how orthotics could help you.
---
Dr. Philip Croutch | Lindsay, ON Chiropractor | (705) 324-8211